Gas Nailing - Fischer 1st Fix Nail Packs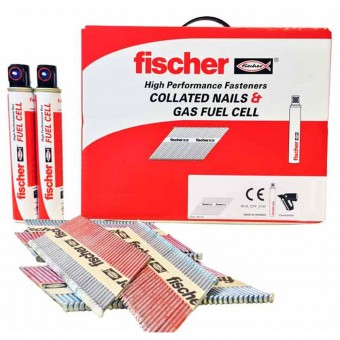 Nail packs suitable for all 34 degree Gas Nail Guns including Paslode, NailFire, Hitachi, Makita etc. The gas fuel cell has at least a 5 year shelf life, and remains operational in temperatures down to -15 degrees. The nail itself exceeds Eurocode 5 standard for corrosion resistance and is manufactured from high quality European steel.
Features and Benefits: Fuel cells with a 5 year shelf life. Gas fuel cells perform down to -15 degrees letting you work longer in any weather. Compatible with all D clipped head framing nails. Unique Fischer red lubrication coating on larger nail lengths. Available in galvanised finish, or stainless steel.
Priced per Box
---
model
Size/Ref
Finish
Box Qty
Price
Qty
D1080051
51 x 2.8mm
RG E/Galv
3300/3
£45.99
Model
Size/ref
Finish
Box qty
Price
D1080051
51 x 2.8mm
RG E/Galv
3300/3
£45.99

D1080063
63 x 2.8mm
RG E/Galv
3300/3
£48.99
Model
Size/ref
Finish
Box qty
Price
D1080063
63 x 2.8mm
RG E/Galv
3300/3
£48.99

D1080075
75 x 3.1mm
RG E/Galv
2200/2
£43.99
Model
Size/ref
Finish
Box qty
Price
D1080075
75 x 3.1mm
RG E/Galv
2200/2
£43.99

D1080090
90 x 3.1mm
ST E/Galv
2200/2
£42.99
Model
Size/ref
Finish
Box qty
Price
D1080090
90 x 3.1mm
ST E/Galv
2200/2
£42.99

D10855128
51 x 2.8mm
RG Stainless Steel
1100/1
£75.80
Model
Size/ref
Finish
Box qty
Price
D10855128
51 x 2.8mm
RG Stainless Steel
1100/1
£75.80

D10856328
63 x 2.8mm
RG Stainless Steel
1100/1
£79.82
Model
Size/ref
Finish
Box qty
Price
D10856328
63 x 2.8mm
RG Stainless Steel
1100/1
£79.82

D10857531
75 x 3.1mm
RG Stainless Steel
1100/1
£88.95
Model
Size/ref
Finish
Box qty
Price
D10857531
75 x 3.1mm
RG Stainless Steel
1100/1
£88.95