Metal Gravity Anchor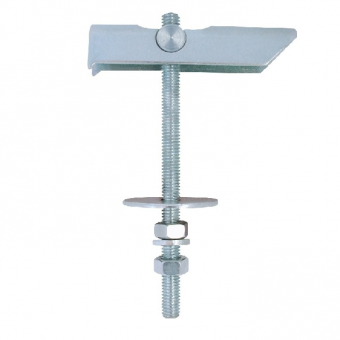 This fixing is inserted into the drill hole in the pre-positioned installation and flips open independently when behind the board.
Suitable for: Prestressed hollow-core concrete slabs. Plasterboards and fibreboards, chipboards & slabs made of perforated bricks. Hollow concrete blocks etc.
Top Features: High load capacity due to good load distribution on the transition beams. High flexibility due to a long threaded rod. Use with various panel thicknesses and attachment thicknesses. No installation tool necessary.
Priced per Box.
---
model
Size/Ref
Drill Size mm
Max Fixture Thickness
Min Cavity Depth mm
Box Qty
Price
Qty
A061906
M6 x 100mm
16
55
70
25
£29.95
Model
Size/ref
Drill size mm
Max fixture thickness
Min cavity depth mm
Box qty
Price
A061906
M6 x 100mm
16
55
70
25
£29.95

A061908
M8 x 100mm
20
55
75
20
£29.95
Model
Size/ref
Drill size mm
Max fixture thickness
Min cavity depth mm
Box qty
Price
A061908
M8 x 100mm
20
55
75
20
£29.95