Blue 60 - Fire Rated Frame Foam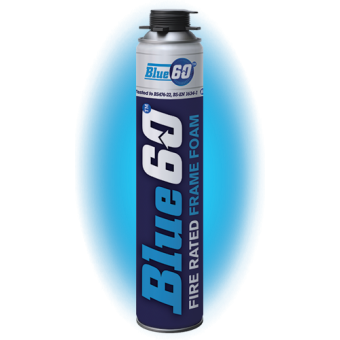 Blue-60 Foam and Packers System is the culmination of 2 years of research and development and 6 months of continuous testing, to enable us to offer the first and only fully tested and accredited Fire Doorset installation method available on the market. Blue-60 has been tested in every possible combination of frame and wall material and with both single and double doorsets with ratings of 30 and 60 minutes, to BS476 Part 22 and BS EN 1634-1. Blue-60 is easy to install and requires no additional sealant or mastics to complete the installation. Blue-60 has also been accoustic tested giving and results of 43dB.
Blue-60 is a specially formulated expanding foam that when used in conjunction with Blue-60 fire rated packers gives up to 60 minutes fire protection to timber doorsets.
Priced Each or per Box
---
model
Size/Ref
Box Qty
Price
Qty
F0426
750ml / Gun Grade
1
£11.95
Model
Size/ref
Box qty
Price
F0426
750ml / Gun Grade
1
£11.95

F0426BX
750ml / Gun Grade
12
£138.00
Model
Size/ref
Box qty
Price
F0426BX
750ml / Gun Grade
12
£138.00