CT1 Sealant & Adhesive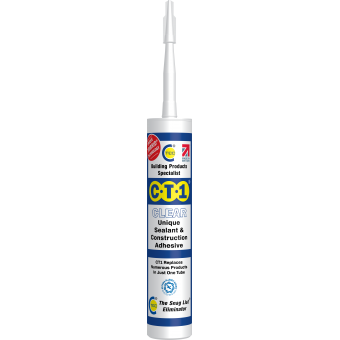 CT1 with revolutionary TRIBRID® Technology! 360% stronger than a traditional Hybrid Polymer.
CT1 will successfully bond: All metals (including lead) g lass, mirrors, all woods, MDF, polystyrene, fibreglass, tiles, concrete, most stones (without staining), most synthetic materials, & plastics (excluding PP, PE and PTFE). Unique adhesion on virtually any material in most applications without the need for additional fixings.
CT1 is the ultimate solution for sealing and bonding. UV resistant. Works in wet or dry conditions, even under water. Odourless. Does not shrink. Contains no solvents, No isocyanates. Unique flexibility. Can be painted.
Price Each or per Box
---
model
Size/Ref
Colour
Box Qty
Price
Qty
F023901
290ml
Clear
1
£12.95
Model
Size/ref
Colour
Box qty
Price
F023901
290ml
Clear
1
£12.95

F023901BX
290ml
Clear
12
£150.00
Model
Size/ref
Colour
Box qty
Price
F023901BX
290ml
Clear
12
£150.00

F023902
290ml
White
1
£10.95
Model
Size/ref
Colour
Box qty
Price
F023902
290ml
White
1
£10.95

F023902BX
290ml
White
12
£126.00
Model
Size/ref
Colour
Box qty
Price
F023902BX
290ml
White
12
£126.00

F023903
290ml
Black
1
£10.95
Model
Size/ref
Colour
Box qty
Price
F023903
290ml
Black
1
£10.95

F023903BX
290ml
Black
12
£126.00
Model
Size/ref
Colour
Box qty
Price
F023903BX
290ml
Black
12
£126.00

F023904
290ml
Grey
1
£10.95
Model
Size/ref
Colour
Box qty
Price
F023904
290ml
Grey
1
£10.95

F023904BX
290ml
Grey
12
£126.00
Model
Size/ref
Colour
Box qty
Price
F023904BX
290ml
Grey
12
£126.00

F023905
290ml
Brown
1
£10.95
Model
Size/ref
Colour
Box qty
Price
F023905
290ml
Brown
1
£10.95

F023905BX
290ml
Brown
12
£126.00
Model
Size/ref
Colour
Box qty
Price
F023905BX
290ml
Brown
12
£126.00

F023906
290ml
Oak
1
£10.95
Model
Size/ref
Colour
Box qty
Price
F023906
290ml
Oak
1
£10.95

F023906BX
290ml
Oak
12
£126.00
Model
Size/ref
Colour
Box qty
Price
F023906BX
290ml
Oak
12
£126.00

F023907
290ml
Beige
1
£10.95
Model
Size/ref
Colour
Box qty
Price
F023907
290ml
Beige
1
£10.95

F023907BX
290ml
Beige
12
£126.00
Model
Size/ref
Colour
Box qty
Price
F023907BX
290ml
Beige
12
£126.00

F023908
290ml
Anthracite Grey
1
£10.95
Model
Size/ref
Colour
Box qty
Price
F023908
290ml
Anthracite Grey
1
£10.95

F023908BX
290ml
Anthracite Grey
12
£126.00
Model
Size/ref
Colour
Box qty
Price
F023908BX
290ml
Anthracite Grey
12
£126.00

F023909
290ml
Silver
1
£12.95
Model
Size/ref
Colour
Box qty
Price
F023909
290ml
Silver
1
£12.95

F023909BX
290ml
Silver
12
£150.00
Model
Size/ref
Colour
Box qty
Price
F023909BX
290ml
Silver
12
£150.00