Nylon Hammer Fixings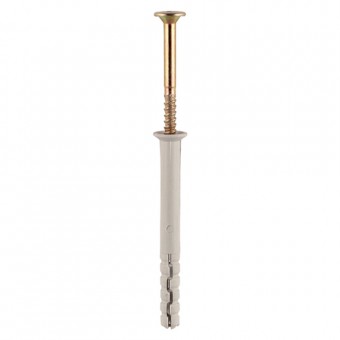 This 'through' fixing is ideal for quick efficient installation of all interior timberwork - battens, frames, wall linings, thermal board etc into solid materials. The hammer in screw eliminates the need to use a screwdriver and facilitates speedy installation. Can be removed with a screwdriver.
The 100% nylon plug is tough and resilient for long life.
Priced per Box.
---
model
Size/Ref
Drill Size mm
Max Fixture Thickness
Box Qty
Price
Qty
A040606035
M6 x 40
6
15mm
200

£10.45

Model
Size/ref
Drill size mm
Max fixture thickness
Box qty
Price
A040606035
M6 x 40
6
15mm
200


£10.45

A040606050
M6 x 50
6
25mm
200

£12.05

Model
Size/ref
Drill size mm
Max fixture thickness
Box qty
Price
A040606050
M6 x 50
6
25mm
200


£12.05

A040606060
M6 x 60
6
35mm
200

£13.73

Model
Size/ref
Drill size mm
Max fixture thickness
Box qty
Price
A040606060
M6 x 60
6
35mm
200


£13.73

A040606070
M6 x 70
6
45mm
200

£15.06

Model
Size/ref
Drill size mm
Max fixture thickness
Box qty
Price
A040606070
M6 x 70
6
45mm
200


£15.06

A040608060
M8 x 60
8
20mm
100

£9.42

Model
Size/ref
Drill size mm
Max fixture thickness
Box qty
Price
A040608060
M8 x 60
8
20mm
100


£9.42

A040608080
M8 x 80
8
40mm
100

£11.68

Model
Size/ref
Drill size mm
Max fixture thickness
Box qty
Price
A040608080
M8 x 80
8
40mm
100


£11.68

A040608100
M8 x 100
8
60mm
100

£15.62

Model
Size/ref
Drill size mm
Max fixture thickness
Box qty
Price
A040608100
M8 x 100
8
60mm
100


£15.62

A040608120
M8 x 120
8
80mm
100

£18.74

Model
Size/ref
Drill size mm
Max fixture thickness
Box qty
Price
A040608120
M8 x 120
8
80mm
100


£18.74

A040608140
M8 x 140
8
100mm
100

£35.86

Model
Size/ref
Drill size mm
Max fixture thickness
Box qty
Price
A040608140
M8 x 140
8
100mm
100


£35.86