Concrete Frame Screws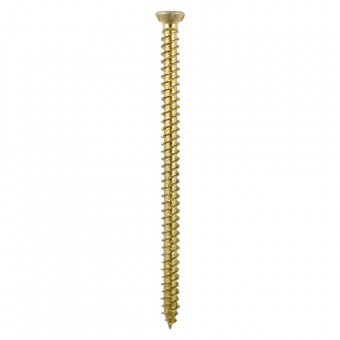 This versatile fixing is rapidly becoming the most popular method of securing window and door frames to all types of masonry. The screw forms its own thread in a pre-drilled 6mm Ø hole in the masonry providing a stress free fixing which enables it to be used in close to edge applications.
A rapid and effective light duty anchoring system for fixing into concrete, brick, stone, concrete block and wood. This through fixing provides a single solution and replaces traditional fixings such as nylon frame and hammer fixings.
• Designed to replace traditional masonry fixings • TX30 TX Drive recess to reduce driver wear & prevent camming-out • Serrated V-threads to achieve optimum insertion into all masonry types • Zinc plated and yellow passivated for increased corrosion resistance • High-Low thread on first 30mm to aid insertion and reduce torque • Ideal for fitting windows and door frames
Priced per Box.
---
model
Size/Ref
Drill Size mm
Max Fixture Thickness
Box Qty
Price
Qty
A040775042
7.5 x 40
6
10mm
100

£6.89

Model
Size/ref
Drill size mm
Max fixture thickness
Box qty
Price
A040775042
7.5 x 40
6
10mm
100


£6.89

A040775052
7.5 x 50
6
15mm
100

£7.69

Model
Size/ref
Drill size mm
Max fixture thickness
Box qty
Price
A040775052
7.5 x 50
6
15mm
100


£7.69

A040775062
7.5 x 60
6
30mm
100

£8.78

Model
Size/ref
Drill size mm
Max fixture thickness
Box qty
Price
A040775062
7.5 x 60
6
30mm
100


£8.78

A040775072
7.5 x 70
6
35mm
100

£9.75

Model
Size/ref
Drill size mm
Max fixture thickness
Box qty
Price
A040775072
7.5 x 70
6
35mm
100


£9.75

A040775082
7.5 x 80
6
40mm
100

£10.77

Model
Size/ref
Drill size mm
Max fixture thickness
Box qty
Price
A040775082
7.5 x 80
6
40mm
100


£10.77

A040775092
7.5 x 90
6
45mm
100

£11.95

Model
Size/ref
Drill size mm
Max fixture thickness
Box qty
Price
A040775092
7.5 x 90
6
45mm
100


£11.95

A040775102
7.5 x 100
6
50mm
100

£13.00

Model
Size/ref
Drill size mm
Max fixture thickness
Box qty
Price
A040775102
7.5 x 100
6
50mm
100


£13.00

A040775112
7.5 x 110
6
60mm
100

£14.80

Model
Size/ref
Drill size mm
Max fixture thickness
Box qty
Price
A040775112
7.5 x 110
6
60mm
100


£14.80

A040775122
7.5 x 120
6
70mm
100

£16.71

Model
Size/ref
Drill size mm
Max fixture thickness
Box qty
Price
A040775122
7.5 x 120
6
70mm
100


£16.71

A040775132
7.5 x 130
6
80mm
100

£18.96

Model
Size/ref
Drill size mm
Max fixture thickness
Box qty
Price
A040775132
7.5 x 130
6
80mm
100


£18.96

A040775152
7.5 x 150
6
100mm
100

£20.75

Model
Size/ref
Drill size mm
Max fixture thickness
Box qty
Price
A040775152
7.5 x 150
6
100mm
100


£20.75

A040775182
7.5 x 180
6
130mm
100

£26.09

Model
Size/ref
Drill size mm
Max fixture thickness
Box qty
Price
A040775182
7.5 x 180
6
130mm
100


£26.09

A040775200
7.5 x 200
6
150mm
100

£30.42

Model
Size/ref
Drill size mm
Max fixture thickness
Box qty
Price
A040775200
7.5 x 200
6
150mm
100


£30.42