BZP Helical Composite Panel Fixing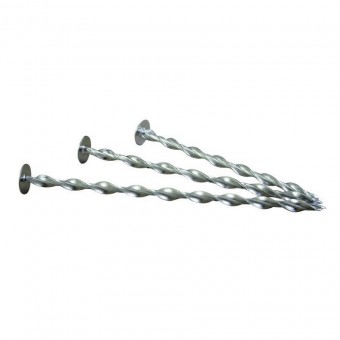 A 20mm Headed Twist Nail for fixing composite panels to wooden battens.
No drilling, and no need for screws. Quick installation. Unlike a nail, rotates whilst being driven in, eliminating the risk of splitting timber. Unique one-piece stress free fixing. Improved design to prevent bending during installation. Range suitable for current and future insulation thicknesses. Minimal compression of insulation. Improved thermal bridging. No other product on the market for the same application. Approved by the major insulation suppliers. 8.8 High Tensile Steel, Zinc Plated and Passivated. Hammer driven.
Priced per Box
---
model
Size/Ref
Max Fixture Thickness
Box Qty
Price
Qty
B22618090
8 x 90mm
Up To 55mm
500

£194.15

Model
Size/ref
Max fixture thickness
Box qty
Price
B22618090
8 x 90mm
Up To 55mm
500


£194.15

B22618135
8 x 135mm
70mm - 96mm
500

£215.60

Model
Size/ref
Max fixture thickness
Box qty
Price
B22618135
8 x 135mm
70mm - 96mm
500


£215.60

B22618165
8 x 165mm
96mm - 126mm
500

£229.68

Model
Size/ref
Max fixture thickness
Box qty
Price
B22618165
8 x 165mm
96mm - 126mm
500


£229.68

B22618195
8 x 195mm
126mm - 156mm
300

£152.72

Model
Size/ref
Max fixture thickness
Box qty
Price
B22618195
8 x 195mm
126mm - 156mm
300


£152.72

B22618220
8 x 220mm
150mm - 185mm
300

£177.01

Model
Size/ref
Max fixture thickness
Box qty
Price
B22618220
8 x 220mm
150mm - 185mm
300


£177.01